Magnetic Sensor Market Size Is Estimated To Reach $3.2 Billion By 2025, Due To Rising Integration of Magnetic Sensors in Automotive And Consumer Electronics Sectors | Grand View Research, Inc.
According to a new report published by Grand View Research, high penetration of sophisticated, feature-rich smartphones and tablets has necessitated the need for advanced sensing components, a trend that is expected to favorably impact the magnetic sensors industry over the next few years.
Magnetic Sensor Industry Overview
The global magnetic sensor market size was valued at USD 2.0 billion in 2018 and is expected to reach USD 3.2 billion by 2025, exhibiting a 6.8% CAGR over the forecast period.
Increased integration of magnetic sensors in various industry verticals, backed by significant technological advancements in sensing techniques, is expected to boost market growth. Government mandates necessitating the integration of magnetic sensors in automobiles are expected to impact the market growth favorably. Magnetic sensors constitute a vital part of navigation systems used in cars and smartphones, as a result of which, their demand is expected to remain buoyant in these two sectors.

Gather more insights about the market drivers, restrains and growth of the Global Magnetic Sensor Market
On account of growing demand for magnetic sensors in the automotive sector, the market is estimated to exhibit a healthy growth rate throughout the forecast period. Sensor manufacturers have stressed on providing efficient devices that can be integrated across a plethora of applications. These devices assist in contactless operations and wear-free measurements of angular speed and angle of rotation. Aggressive investment in R&D activities for development of advanced sensory components is also another strategy adopted by manufacturers. They aim to develop sensors incorporated with features such as motion detection, speed, and proximity in order to cater to the needs of diverse end-use verticals.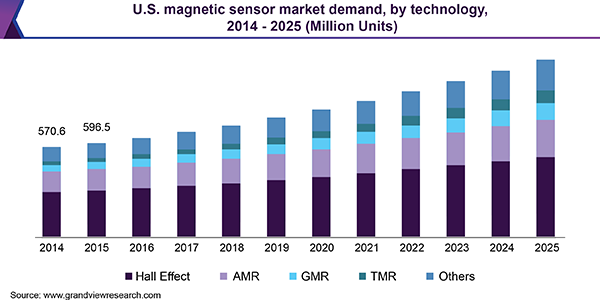 Magnetic sensors form the building blocks of electronic control systems in commercial as well as passenger vehicles. These systems ensure increased safety and enhance driver convenience, as a result of which, their adoption has witnessed a surge. Such advanced sensing elements guarantee high reliability and efficiency in terms of economics and performance.
High penetration of sophisticated, feature-rich smartphones and tablets has necessitated the need for advanced sensing components, a trend that is expected to favorably impact the market over the next few years. Magnetic sensors have also been extensively used in the field of Non-destructive Testing (NDT) and medical R&D.
The average selling prices (ASP) of magnetic sensors are declining steadily, which is attributed to intense competition in the market. As a result, manufacturers are forced to shrink their margins in order to secure long-term deals with companies across several end-markets. While such a reduction in ASPs is anticipated to continue, growing application ranges of magnetic sensors are expected to aid the market over the next few years.
Magnetic Sensor Market Segmentation
Based on the Application Insights, the market is segmented into automotive, consumer electronics, industrial and others
The automotive sector is expected to emerge as the highest demand generating segment over the forecast period. Approximately 1.5 million magnetic sensors were utilized in various automotive applications in 2018. The segment also accounted for the dominant revenue share in the magnetic sensor market that year. Key regulatory bodies all over the world are shaping the growth of the segment by stressing on the adoption of electric and hybrid cars in order to address growing concerns regarding environment pollution.
Increased incorporation of magnetic sensors in consumer electronics is expected to positively impact market growth. These sensors form integral parts of devices such as tablets, smartphones, scanners, printers, laptops, flat panels, and cameras. They are also embedded in gaming controllers and other smart products.
Use of robots in factory automation has gained a lot of prominence in recent years. Factory automation solutions necessitate linear as well as angular position sensing for carrying out motor movements with a higher degree of accuracy, repeatability, and precision. To address the growing need for enhancing the efficiency of production lines, magnetic sensors are being increasingly used for angular and linear sensing, safety switches, and proximity detection.
Based on the Technology Insights, the market is segmented into hall effect, AMR, GMR, TMR and others
Hall Effect segment accounted for a sizeable revenue share and was valued at close to USD 640.0 million in 2018; the segment is projected to maintain its dominance throughout the forecast period.
The TMR segment is projected to exhibit the highest volume-based CAGR of more than 14.5% over the forecast period. TMR sensors have a wide range of industrial applications, including bio-sensing and Magnetoresistive Random-Access Memory (MRAM). The technology is gaining popularity owing to its ability to offer high output and sensitivity, along with sensing capabilities akin to Wheel Speed Sensors (WSS) used in Anti-lock Braking Systems (ABS).
AMR sensors are also anticipated to become popular over the forecast period owing to their inherent features such as greater magnetoresistance, lower price, and high flexibility.
Based on the Regional Insights, the market is segmented into North America, Europe, Asia Pacific, Latin America, and Middle East & Africa
Connected cars have gained considerable prominence in North America as customer buying behavior has started to hinge on communication capabilities offered by various car manufacturers. Miniature magnetic sensors assist in imparting such capabilities, while keeping basic functionalities of the car intact. Sensing components in various use cases such as position sensing, flow rate detection, and speed sensing are also gaining traction in the region.
The Europe market was valued at over USD 420.0 million in 2018 and is projected to maintain a steady growth rate over the forecast period. Hybrid cars, which are integrated with Hall Effect current sensing in the power systems, are witnessing increased adoption in Europe, which has greatly aided market growth.
Asia Pacific led the market in terms of revenue as well as volume in 2018, which is attributed to prospering automotive and consumer electronics manufacturing industries in the region, as well as the presence of prominent sensor manufacturers in China and Japan. Increased demand for automobiles and high-tech smartphones has augmented the demand for magnetic sensors in the region.
Market Share Insights:
January 2018: Asahi Kasei acquired Senseair AB, a Swedish manufacturer of gas sensor modules, to offer next-generation sensors and to expand its business activities in air and gas sensors, where rapid business growth is projected in the coming years.
January 2016: Honeywell introduced new additions to its line of magneto resistive technologies featuring highly sensitive sensor ICs. This new product helps the design engineers by delivering more flexibility for creating a range of industrial, medical and white goods devices.
Key Companies Profile:
The global industry is experiencing fierce competition among leading market incumbents owing to a fragmented and highly concentrated competitive landscape. Moreover, improved manufacturing practices and adoption of TMR technology is poised to offer substantial growth opportunities to sensor fabricators and associated industry participants.
Some prominent players in the global magnetic sensor market include
Alps Electric Co. Ltd
Asahi Kasei Baumer Ltd.
Elmos Semiconductor AG
Honeywell International, Inc.
iC – Haus
Allegro Microsystems, Inc.
Memsic Corporation
MultiDimension Technology Co. Ltd
Microdevices Corporation
NVE Corporation
Magnetic Sensors Corporation
NXP Semiconductors
Order a free sample PDF of the Magnetic Sensor Market Intelligence Study, published by Grand View Research.
About Grand View Research
Grand View Research is a full-time market research and consulting company registered in San Francisco, California. The company fully offers market reports, both customized and syndicates, based on intense data analysis. It also offers consulting services to business communities and academic institutions and helps them understand the global and business scenario to a significant extent. The company operates across multitude of domains such as Chemicals, Materials, Food and Beverages, Consumer Goods, Healthcare, and Information Technology to offer consulting services.
Web: https://www.grandviewresearch.com
Media Contact
Company Name: Grand View Research, Inc.
Contact Person: Sherry James, Corporate Sales Specialist – U.S.A.
Email: Send Email
Phone: 1888202951
Address:Grand View Research, Inc. 201 Spear Street 1100 San Francisco, CA 94105, United States
City: San Francisco
State: California
Country: United States
Website: https://www.grandviewresearch.com/industry-analysis/magnetic-sensors-market