Leema Pasha, MBA, Launches Her New Book, Activate Your Wellness
Leema Pasha, MBA is an Executive Wellness Coach, Mindfulness Facilitator, and Organizational Consultant.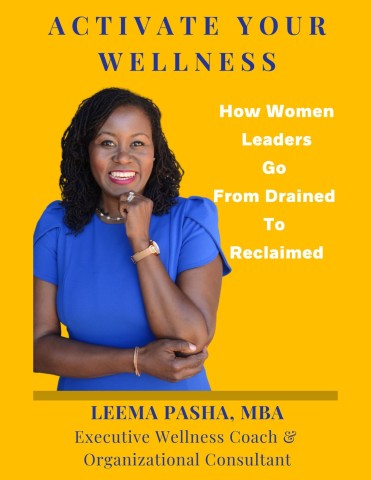 Well-known mindfulness facilitator and certified life coach Leema Pasha, MBA, has finally launched her much-awaited book "Activate Your Wellness" to an amazing response. The book is currently being sold on Amazon. The power of mindfulness meditation, womb health, setting "SMART" goals, visualization, and other topics are covered in the book. This eye-opening book reveals how women leaders can go from drained to reclaimed in a thought-provoking manner.
According to the CDC, stress is the biggest problem in the workplace, and it causes illnesses and unhealthy coping tactics like overeating. Leaning on her 20 years of experience as a Public Affairs Executive, a Master's Degree in Business Administration, and a Bachelor's Degree in Mass Communications, Leema Pasha, MBA has helped many women and public service leaders stop stress and beat burnout, so they can achieve their mission, vision, and values with valor.
Leema developed a unique framework to align your wellness, power, and purpose. Through this book, she hopes to bring much-needed attention to topics like Being Your Authentic Self, Managing Anxiety and Stress, Prioritizing Wellness in the Workplace, Women's Wellness, Mindfulness Meditation, Leadership, and Communication, and the Power of Healthy Lifestyle Habits.
"I wish to assist individuals in overcoming stress and regaining wellness, so they can fully enjoy life. Read this book to find heartfelt solutions to your wellness challenges, reduce tension, and overcome burnout.
Develop a new way of living that fits who you really are!" Leema Pasha, MBA.
Book a copy of Activate Your Wellness by Leema Pasha, MBA at: https://www.amazon.com/Activate-Your-Wellness-Leaders-Reclaimed/dp/B0BS8RZWVM
About The Author
Leema Pasha, MBA, is an Executive Wellness Coach and Mindfulness Facilitator.. She excels in assisting women, public servants, and other leaders to overcome stress and regain their wellness, so they can fully enjoy life. Leema empowers people to become their best versions by amplifying their genuineness and working with individuals, groups, and organizations. She also founded The Manifest Wellness Podcast and currently serves as its presenter. Leema loves soaking up the sun and dancing to jazz, afro beats, and soul music.
To learn more, visit: https://leemapasha.com
Media Contact
Company Name: Pasha & Associates
Contact Person: Leema Pasha, MBA
Email: Send Email
City: Francisco
State: California
Country: United States
Website: Leemapasha.com